*For our current host business locations. Please visit here to see if your workplace is on this list. Contact us to learn about setting up your location as a host business.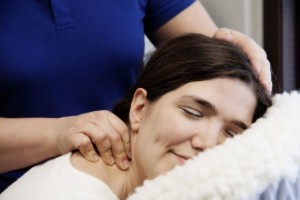 Workplace Massage is your office stress solution! We have been providing on-site Massage Therapy services to offices and special events in Alaska since 2006. Our team members represent the best Massage Therapists in the state. They are all certified, licensed, and insured so you know you are in good hands.
Workplace Massage is perfect for:
Corporate Wellness Programs
Open House events
Employee or Customer Appreciation
Retreats
Product Promotions
Attracting New Customers
Teacher Appreciation
Fundraisers
Business to Business Relations
Try it yourself and you will see that nothing beats a Workplace Massage!
What our happy clients have said about us:
"I started coming to Elizabeth on Thursday afternoons earlier this year.  Those 30-minute chair massages really help a lot.  It is a mental as well as physical benefit.  I can't say enough nice things about Elizabeth and WPM!  Thank you for providing your services here at BP."
"I was given a gift card from my supervisor, and completely enjoyed the chair massage! Thanks,  I will use this again in the future."
"Thank you for doing your part to bring a little more peace on earth.  I appreciate you and our massage program so much!"  
"Thanks again to you and Nikki for brightening our day yesterday with the wonderful massage. Everyone thoroughly enjoyed this small break from work and deadlines."

 
  "I truly enjoyed the massage. Yael did a wonderful job. It was my first time ever having a massage, and she knew where my sore spots were. I came out feeling wonderful. I will be making another appointment next week!"   "The event went over wonderfully. Elizabeth did an awesome job. Thanks again for accommodating the late request!"   "Tuesday was a hit!! The teachers that did get massages were very happy and were pleased that they were being pampered in this way. Your therapists were very professional and flexible with the scheduling change. They were wonderful! Thank you so much for accommodating us at our school and making our teachers so happy! I will pass on your information to the chair of this event for next year's Teacher Appreciation."   "Thank you for putting this together at the very last minute – kudos to you! Your staff was prompt, courteous, calming, and professional. Everyone really enjoyed the massages."   "Love the accessibility of the workplace massages.  Sitting at a desk day in and day out the massage helps to work the stressed muscles."   "I love it!  Having a massage available every week has really helped my back.  And just knowing that it's available, even if I don't use it, has helped my mood!"   "I wanted to thank all of you for making the Health Fairs a success. It was nice getting to know all of you. All of you were very enthusiastic, personable and approachable with our employees. This is much appreciated."   "Thank you for sending such a competent therapist. You were so organized and the whole process so easy. It was INCREDIBLE!"