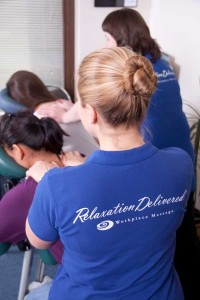 Do you do massages in client's homes?
We do not provide services to individuals in their homes. However, we will be glad to to provide massage services for 'pamper parties' or other events that may take place in a client's home.
What is the minimum reservation required for Workplace Massage to come to my office?
We ask for a minimum of one hour's worth of reservations to come to your location. This time frame can accommodate 2-6 employees depending on session length.
How much space do you need?
If only one massage therapist is scheduled, we only need a space about 6′ by 6′. Conference rooms, unused offices, or a quiet corner are perfect locations. Jobs requiring additional therapists will need more space.
Do you provide table massage?
Yes. If there is sufficient space and privacy in your office, we would be happy to set up a table. We also provide table massage services for retreats and sporting events.
How should I dress?
You do not need special clothing to receive a chair massage. Just come in your work clothes or a comfortable t-shirt.
Will there be oils or lotions used?
We will not use any oils. Massage creams or lotions can be used for hands and arms, but they will be free of fragrance, and will not not stain your clothing. We will get your permission before using these.
Are tips or gratuities expected?
Tipping is never expected or required. But it can be a great way to show your appreciation if you had a great massage. If you decide to tip, the average rate is 10-15%.
Are there conditions where massage would be harmful?
Yes. Although massage can be so helpful for many conditions, please let your therapist know if you have hypertension or diabetes, if you have had recent surgery or injury, skin disorders in the upper body, or numbness or tingling in any part of the body, especially the hands and feet. Please let us know if you have had adverse reactions to body work in the past. You should also check with you physician prior to receiving massages if you have medical concerns.